Window cleaning tools - Magnetic Window Cleaner -  Outdoor window cleaner
Are You Sick of Wringing Your Neck Each Time You Want To Clean Your Windows On Both Sides?
With The Magnetic Window Cleaner, Cleaning Windows Is Much Easier Faster And Safer.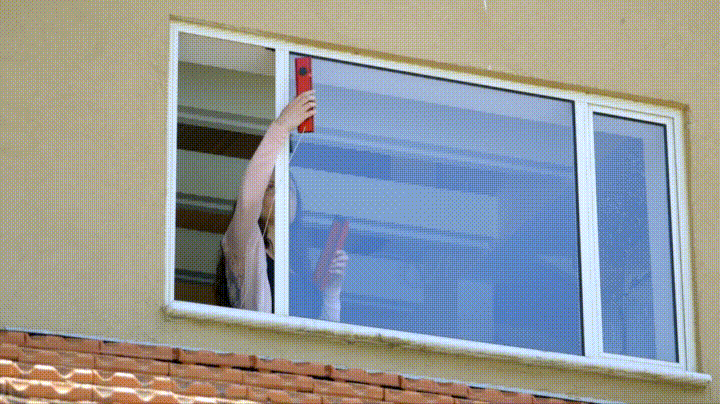 The Magnetic Window Cleaner is your new cleaning essential. You will forget your problems on cleaning your windows from the inside and outside.
This Magnetic Window Cleaner cleans your windows simultaneously inside and outside.
The principle is simple: using its strong magnets you can slip the next cleaner from the outside without sticking your hand out from the second-floor window.
FEATURES: Made of wear resistant and durable ABS plastic allows you to clean the exterior of your windows while staying within your room.
Effective for cleaning single glazing windows between 0.08 around 0.3 / 2 - 8 mm thickness.
High effect leaves your window bright and shiny.
Used by professionals to clean hard to reach windows.
SPECIFICATIONS: Material: Plastic Size: Around 147mm x 56mm x 21mm Package includes: 1 x Magnetic Window Cleaner
1 x Plastic Separator to protect the squeegees while not in use
2 x Cloth Rags
1 x Manual
WHY BUY FROM US & OUR GUARANTEE
Award Winning Customer support!
We totally, categorically, 100%, MASSIVELY appreciate you spending your hard earned money with us rather than over at Amazon.
For this reason, I (we) will do all we can to make sure you have an excellent experience at Sam's Finds.
Of course, things happen. Sometimes, the shipping takes longer than it should. Sometimes you may need to send your item back...
Fear not my friends, my team and I will do everything we can to make everything right... from sending you freebies to walking over hot coals if we have too.... you can be confident shopping with us.
Iron Clad Guarantee & Free Gift
You will have a 60-day refund guarantee, which means at any time within the first 60 days after purchasing, you can send us an email, give us a call or send us a carrier pigeon and you'll get a refund. No questions asked. No harm, no foul. All we ask is you send back your item in its original packaging and unused. Sound fair?
On top of that, if you do, indeed, need to return any item, we will send you a free gift. Our way of saying thanks for giving Sam's Finds a go.
Quick Shipping Times
You've bought an item - you want it in your hands as quick as possible. We get that, that's why 90% of our items are shipped from our USA warehouse or UK warehouse depending on where you live. This means you get your order quicker
Thousands Of Happy Customers
We are honored to have thousands of our products around thousands of homes all around the world. We would love to have you join that club. We appreciate you and your business.
Shipping Times
Please allow up to 3 business days from the day placing your order for the item to be shipped. In most cases, items are shipped that day if ordered before 2pm CST, however for some products, we do need a little longer to get out the door, therefore we say up to 3 business days to manage your expectations.
Depending where you live, the shipping times range based off the carrier and your location.
We try and get your order out of our warehouse as soon as possible, however sometimes the carrier can take a few days longer than expected.
Returns
We understand sometimes returns and exchanges are necessary.
We want to make you, our beloved customer, happy. So, if for any reason you are not happy with the order you received, please contact us to help make it right.
We very much appreciated your business, however, if you have a problem with the item(s) shipped to you, American Metal Company will fix it immediately given the fault is on our part. We will only accept returns and issue a refund under the following conditions:  
- The item is damaged and/or materially-flawed
- You received the wrong order
- The design is different from your order
In all these cases, we require photo proof to process your refund.
To return an item, send it to:
For All Other Returns
Sam's Finds
C/o Wohl Enterprise Hub
2b Redbourne Avenue, London N3 2BS,
Kindly include in your package a signed letter stating the reason for your return and the original receipt.
Item(s) that has been worn, used, or altered will not be accepted for return or exchange.
Sam's Finds does not refund the original shipping and handling fees that you paid for your order, however we will cover the cost of shipping for any replacements we send out to you.